You often ask us how our pavilions look so magical. What is the secret? Check out the video on our YouTube channel and see the process of setting up and decorating the Altera Silhouette tent, which we presented at this year's Arena Zagreb Wedding Fair and was declared the most beautiful exhibition space.
WHY ALTERA SILHOUETTE TENT IS A GREAT CHOICE FOR YOU
Altera Silhouette tents are unique and exude elegance thanks to their wavy tops, sumptuous sail fabric, and massive wooden poles. They are distinguished by the transparent character of the sail fabric and different shapes, primarily due to their excellent workmanship. Namely, they are handmade by specialized sailmakers. The wooden posts are made of laminated pine, which makes them extremely strong, and they are coated with a rustic protective varnish.
They can be completely closed with an easily adjustable system of transparent and/or solid side walls. It facilitates heating and air conditioning and allows you to enjoy the feeling of an open or closed tent. This type of tent is extremely resistant and can withstand wind gusts of 120 km/h. In addition, you have the option of placing personalized or branded flags on top of the center posts.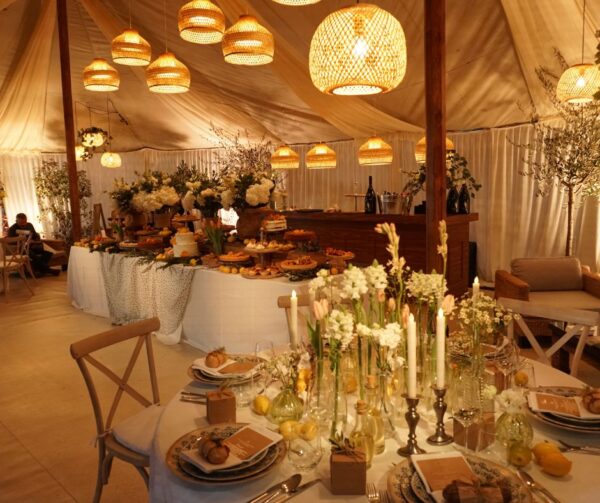 HOW TO DECORATE ALTERA SILHOUETTE TENT
When it comes to organizing outdoor events and weddings, we always recommend connecting the interior with the exterior. Prefabricated pavilions give you great freedom in decorating, and depending on the weather conditions, you can choose how open your space will be.
If you want your event to be sustainable, use natural and recycled materials in the decor. Wood, jute, and linen are must-haves. You will bring a touch of nature by choosing seasonal flowers or wildflowers. You can also decorate the space with dehydrated or uncut herbs. Renting is almost always a better option than buying. In addition to regular equipment such as tables, tablecloths, and chairs, there is the possibility of renting small decorations and even flowers in jars.
Find additional inspiration in the video from the Wedding Fair, as well as in the brochure. Enjoy and create memories with your loved ones. Leave everything else to us.