Colors have enormous power. They influence our mood, emotions, and behavior. Also, their selection hides a deeper meaning and symbolism. Sun-drenched locations and abundant natural greenery give you great freedom and diverse color palettes for summer weddings. We bring you our top 5, as well as their symbolism and tips on how to combine them in your wedding pavilion.
WHITE
The color white is a classic choice that you can't go wrong with. White textile elements – tablecloths, seat cushions, napkins, roof or side decorations – in combination with lush greenery placed in glass or gold vases will look sophisticated, airy, and elegant. White is connected to purity, innocence, perfection, and sincerity, and green symbolizes new beginnings, abundance, and nature. It is not surprising, therefore, that newlyweds choose this combination most often.
BEIGE
Neutrals, earth tones or warm champagne shades? Yes, please! This color is a perfect base for rustic or boho weddings. With good lighting, unique textures and the right choice of floral or plant decorations, such as pampas or palm leaves, it will look gentle but impressive. It is also a great base color for sustainable and minimalist weddings. It symbolizes simplicity, wisdom and trust.
PINK
Is there a more romantic and dreamy color than pink? Pink in all its shades is very welcome at every wedding. Whether it's incorporated into details and flowers or larger surfaces like tablecloths or roof decorations. This color is warm and feminine, daring, sophisticated and romantic. It will look great in combination with earth tones, pampas grass and roses in pastel shades, as well as with candles in crystal candlesticks, blue porcelain and transparent vases. It is a symbol of love and kindness.
(LIGHT) BLUE
All shades of blue will look wonderful at your summer wedding. This color will connect the interior of the pavilion with the shades of the summer sky and the refreshing depths of the ocean. Blue is the perfect choice for seaside weddings or poolside ceremonies. Play around with different patterns and flowers to add texture and color to your table. We suggest combining it with pink, orange or white. The blue color symbolizes freedom, intuition, inspiration, stability and loyalty.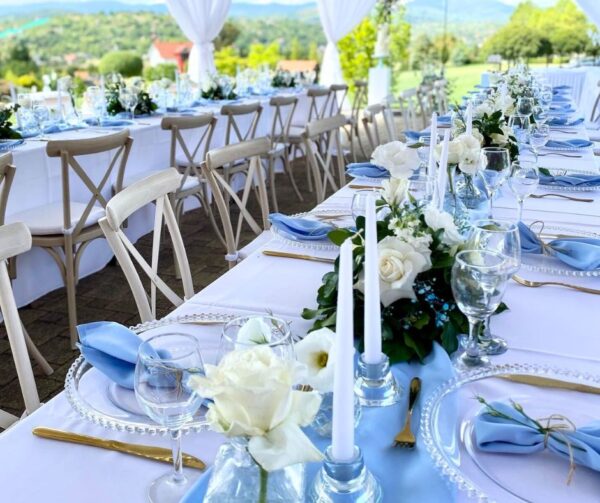 ORANGE
If any season encourages expression with vivid colors, then it is summer. From peach to bright to red-orange, with shades of orange your wedding pavilion will definitely look warm, bold and cheerful. Combinations with copper details, colored glass and flowers, and even fresh fruit in bright shades will look interesting. However, we advise you to soften the impression with textile decorations in neutral colors. Orange symbolizes optimism, confidence, energy and vitality.
Find everything you need for your dream wedding in our catalog, and for everything else send us an inquiry.